PLAY IN CASHMERE LIKE A KID - 10 FUN THINGS TO DO
To help keep your kids entertained this Summer and involves exploring different ways to enjoy your 'backyard'paradise, I've listed 10 fun things you can do with your kids in Cashmere, WA. From simply playing at the park to eating together with friends and family over BBQ, these suggestions can be broken up into multiple day trips of fun things to do with your kids. My family has enjoyed these things to do in Cashmere for years, and I know your kids will enjoy them too!
PLAY AND PICNIC @ THE PARK
Riverside Park
Riverside Park went thru a little renovation recently with the addition of new playground equipment, skatepark, and a pump track. Perhaps you can entertain your littles on the playground while your bigger kids ride their wheels. Make sure to pack snacks, lunch, beverages, or whatever you need to keep your kids fed and happy. If you want to grab a bite to eat with your family while in Cashmere, burgers at Rusty's Drive In or sandwich's at Weeds Cafe is a good choice.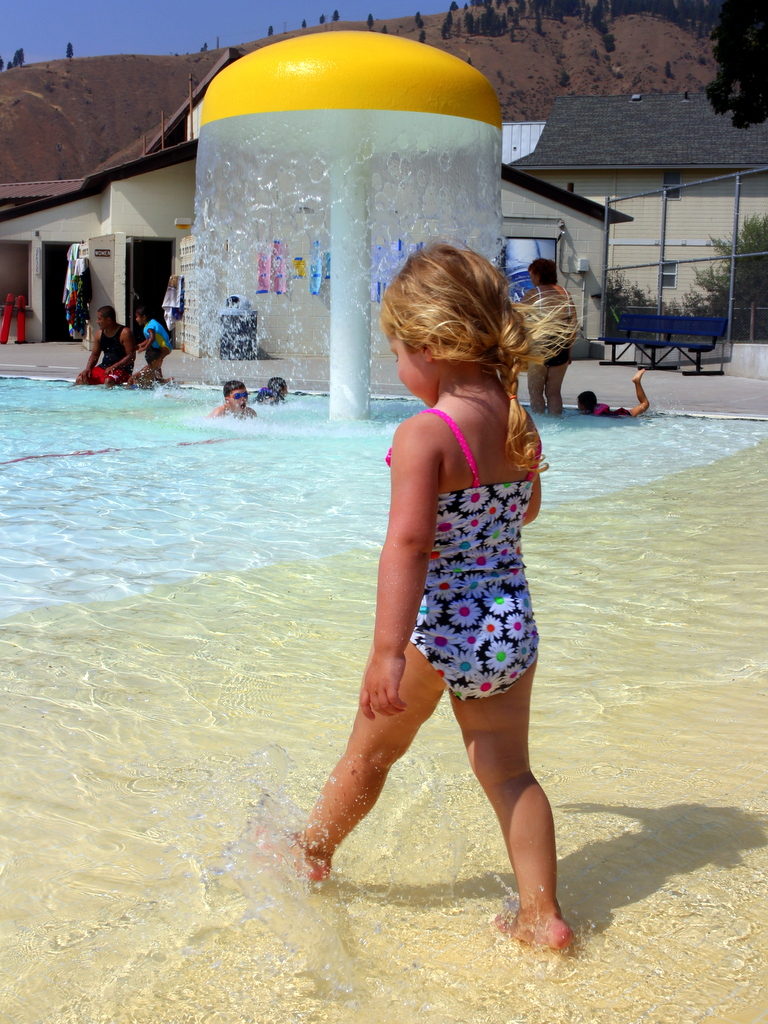 SPLASH UNDER A MUSHROOM WATERFALL
Cashmere City Pool
One of our favorite neighborhood city pools in the area is Cashmere City Pool. Enjoyable for the little ones with a gradual entrance and pop-up fountains. And the older kids enjoy the mushroom waterfall, slide and diving boards in the deeper end. Bring your own chair and umbrella! General admission $4.
Hours Public Swim: Monday-Friday 1 - 4:20 pm, 6 - 7:50 pm. Saturday/Sunday 1 - 4:20 pm
Cashmere City Pool, 104 Paton St., Cashmere, WA. 782-1300
SLURP A MILKSHAKE @ AN OLD- FASHIONED SODA FOUNTAIN
59'er Diner OR Doane's Pharmacy
Asking for a treat is one of the first questions I get when I take my kids anywhere. So naturally we hit up the best classsic soda counters for milkshakes or rootbeer floats at 59'er Diner or Doane's Pharmacy. Both places offer a fun throw-back-in-time experience when you belly up to the counter to enjoy a strawberry milkshake 50's style.
There's also a few vintage toys around to entertain the kids.
59'ER DINER (pictured), 200 Apple Annie Ave, Cashmere, WA. http://www.59erdiner.com/cashmere.html
DOANE'S PHARMACY, 119 Cottage Ave, Cashmere, WA. http://www.doanesvalleypharmacy.com
GET A LOCAL HISTORY LESSON
Cashmere Museum & Pioneer Village
Our personal favorite kid-thing-to-do in Cashmere is visit the Museum and Pioneer Village. The exhibits are full of Native art, Pioneer objects, geodes and local natural history. The gift shop has some very good choices for mementos and gifts such as jewelry, art, books, and hand-crafted items. There is a little dress up box to play pioneer and a little prize is given if you complete the museum scavenger hunt.
Open 10 am - 4 pm, every day
Cashmere Museum & Pioneer Village, 600 Cotlets Way, Cashmere, WA. 782-3230
Pioneer Village @ Cashmere Museum
When you finish your tour of the museum, step out the back door in time to a real Pioneer Village. A replica of a typical early 1900's town using 20 original structures from different NCW areas that were carefully relocated and restored. All structures are furnished with antiques from the late 19th and early 20th centuries, staged to look as if someone were still using the space. You get a real look of what the inside of a general store, jailhouse, school house, medical office, residential home, bar, and others may have looked like over 100 years ago.
Cashmere Museum & Pioneer Village, 600 Cotlets Way, Cashmere, WA. 782-3230
TREAT THEM TO DONUT OR COOKIE
SURE TO RISE BAKERY
Why not! The kids have been good. Pick up a treat for them and head to the park or pool to burn off the sugar rush. It's hard to pass up a fresh baked donut or cookie from Sure to Rise Bakery. Pick up a loaf of fresh baked bread while your at it!
Sure to Rise Bakery, 115 Cottage Ave, Cashmere, WA. (509) 782-2424
Gnomes of Cashmere
A fun way to connect with local businesses and play like a kid, is to search out the little Gnome's homes and businesses scattered thru out Cashmere. Standing no more than 6 inches tall, each business and home has a story about the gnome(s) who own the property and their magical lives. They are so cute to spot! Kids get so excited when they spot a little gnome house.
Learn more about the Gnomes of Cashmere and where they are located.
TOUR A FAMOUS CANDY FACTORY
Aplets & Cotlets
Famous fruit-and-nut confection company, Aplets & Cotlets, was founded 99 years ago by two enterprising Armenian immigrants who settled in Cashmere in 1920.
Take a tour of the same factory and see how Aplets & Cotlets candies are made from hand-sorted fruit and nuts to hand-packed boxes. A short tour is given at certain times thru out the day. Keep in mind you'll want to tour earlier in day before production goes home. Believe it or not, this tour is a very popular among the tourist crowd!
I loved that the gift shop is surprisingly curated with fine foods, a variety of non-fruit candies, and cute gift ideas. And don't forget to sample FREE candies fresh from the factory!
Open Monday - Friday 8:30 am - 5 pm. Saturday/Sunday 10 am - 4 pm
Aplets & Cotlets, 117 Mission Ave, Cashmere, WA. (800) 888-5696 See here for additional information on Aplets & Cotlets.
Country Boys BBQ
OK, not so much a kid-thing-to-do, but still a kid favorite! Country Boy's BBQ is the best in the land, and they serve it up finger licking good outside, under their covered pergola patio. This is a super kid friendly spot with no alcohol served, but they do have refreshing strawberry-lemonade! Serving lunch or dinner. Make sure to get a fun picture with the pig!
Open Tuesday - Saturday 11 am - 8 pm
Country Boys BBQ, 400 Aplets Way, Cashmere, WA. (509) 782-7427. https://www.countryboysbbq.com
Wenatchee River @ Riverside Park
We don't step foot near the rivers edge until late summer when the Wenatchee River is low and slow. You can access the river at Riverside Park. Although there is not a beachy area along the shore to sit, there is plenty of exposed rocks and pools to explore.
Around this time of the season, you'll likely see locals beating the heat and floating the Wenatchee River on tubes from Cashmere to Monitor or Confluence Park. They do this at their own risk.
Water rafting guides, such as Wildwater River Guides, operate rafting tours on the Icicle and Wenatchee Rivers if you want a little more excitement and river rapids earlier in the Summer. Usually a rafting trip like this is for ages 10+ and will cost upwards of $65 pp for 2-4 hours.
Wildwater River Guides, 1 800 522 WILDINFO@WILDWATER-RIVER.COM
Brian's Pizza & Bowling
Cashmere's small town family fun center consisting of Pizza, 50+ Item Salad Bar, Fro-YO Bar, 4 LANE BOWLING ALLEY, ARCADE, and Ice Cream.
Open 7 Days a Week 11am-9pm
Lunch Special (11am – 2pm Monday – Friday)
-Mini Pizza $5.55 ($6 with tax)
- $2 OFF a Med or Lg Pizza 1/2 Pepperoni 1/2 cheese
This post has been sponsored by the Cashmere Chamber, however, all content and recommendations on this particular post are the sole creation and opinion of Lisa Traum of Livingncw.com.